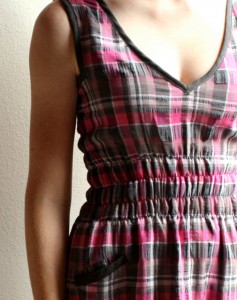 unbelievably, the next sale that comes up in my etsy shop will be number 1000.  i'd like to offer this customer a fiji dress along with their purchase.  at the moment i have the pink plaid in all sizes so it's going to be the dress pictured above.
1000 is a big number.  of those i surely cut and sewed hundreds and hundreds and hundreds over the past couple of years, mostly from my kitchen studio.  etsy started as a fun way to do a children's collection with my daughter who was quickly becoming a clothes horse at 3 years old.  it turned into a way to reach an online audience around the world.  the whole thing took me completely by surprise and i'm forever grateful to etsy.  making all those clothes may sound like a real drag to some but i loved it.  there was endless freedom to make whatever i wanted and then the added benefit of being able to sell it.  to feel like i'd contributed something that day to our finances made me feel good.
selling to stores can be lucrative to be sure.  it's also a bit of a rollercoaster, ask any indie designer.  some seasons you're the belle of the ball and others you find you missed the mark somehow.  you seldom get feedback from the customers who buy from these stores so you're sort of in a void, hoping things are going well.  being able to sell clothes in your own shop is different.  you not only get feedback from customers, you get ideas, forge friendships and i think just find your way more easily.
big thanks to everyone i've met through etsy.  your loyalty, and in some cases your friendship, mean the world to me.
u.  xo