mina dress – black silk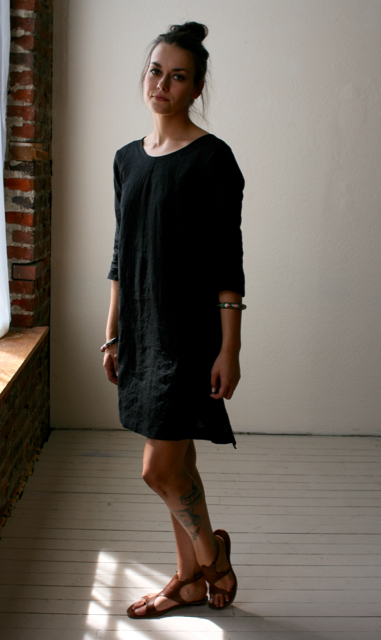 cottage dress – black irish linen
drop sleeve tee – linen knit (japan) worn over skirt w/pleat – black linen (silk lining).
drop sleeve w/pockets – black and white linens.
cottage dress – natural irish linen
————-
some images from the spring 2016 look book we shot yesterday.  these were some of my favorites, the monochromatic pieces.  i will post more of the collection later, the prints and more sepia toned colors.  it gets interesting!  amanda was an amazing model. she is local, no experience.  just drop dead gorgeous and very sweet. she reminds me of a young natalie wood.  i am suddenly very excited to shoot the september collection with her next.
fyi – in the next few weeks i am going to put together a look book for spring for retail customers interested in ordering from the spring collection in advance.  it will include photos and pricing.  i often sell out of something when showing the pieces to stores so this is an opportunity to reserve something for yourself (if i am able to swing it). pre-orders would ready sometime this year for the most part. if you're interested in receiving the private link to view spring, just contact me via the shop or website.